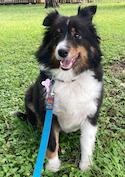 Say hello to Darla! She is a beautiful 4-year-old girl who was an owner surrender. She had a wonderful home but unfortunately, she has some severe allergy issues that require a lot of special care.
Darla is not available for adoption yet. We need to work with our ASR vet and determine exactly what she is allergic to and if we need to change the current treatment she is on. She is also overweight and we need to get her to a healthy weight.
So for now, Darla will remain in foster care.