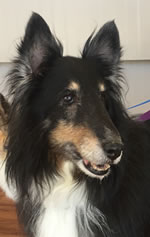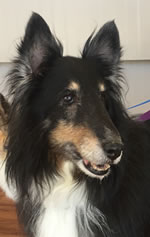 Jackie is an owner surrender due to health problems.  Jackie is around 12 years old and is spayed, up to date on all vaccinations, heartworm negative and on heartworm preventive.  She has recently had a dental Jackie is a loveable girl that is what we call a Velcro dog, she loves to be with her person, will follow them from room to room and lay down right in front of their feet.  Jackie is house trained and crate trained but prefers to sleep close to her person.  She may have some hearing issues.
UPDATE – We have determined through researching Jackie's history that she is closer to 5 or 6 than she is 12. We found this information by tracking back on the history of her microchip and where she had it implanted. She also has the energy level of a much younger dog. Jackie is currently on a special diet for kidney failure. We tried her on the new food for a month and retested her, she will continue on this diet for another few months in hopes that things will turn around.
UPDATE II – Jackie has developed high blood pressure due to the issues with her kidneys and her arthritis. She is currently on medications for the arthritis and blood pressure, to help her stand and move around and to help reduce her blood pressure. So far this is working in her favor.